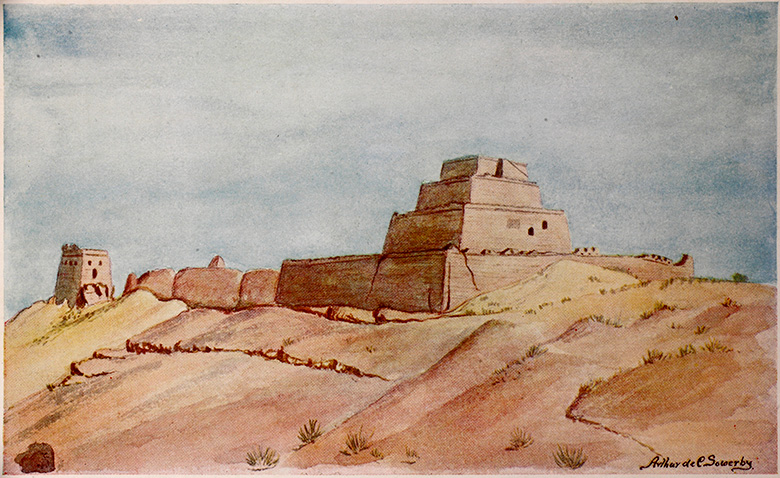 An original watercolor painting by Sowerby, April 25, 1908, reproduced in Through Shên-Kan. Just prior to the Clark Expedition, Sowerby joined the Duke of Bedford's Zoological Exploration in Eastern Asia with Anderson to collect animal specimens in the Ordos desert. The fortress shown is on the northern section of the Great Wall on the borders of Shaanxi and Ordos, which are three miles north of Yulin.
The Great Wall in Yulin Desert
Li Ju





A Fort in Zhenbeitai, Yulin, Shaanxi. January 4, 2009 Renovated in 1990. Sowerby used to do his sketching and paintings just to the left rear of the photo. A dog was barking ferociously at me when I stood on the roof to take these photos, so I could not get closer to his viewpoint.





Left: Tower of the Great Wall near Yulin Fu, Shaanxi, November, 1908. Smithsonian Institution Archives, Image #2008-2994.
Right: I am comparing the newly restored watch tower with the original one.


  


  山雨欲来,榆林北部芹河一带沙漠中的长城景色。2009年4月8日拍摄。





  榆林沙漠中的长城,敌楼的包砖全没有了。





While having a break in the desert along the Great Wall in Yulin, I spotted this small insect; the tracks it left behind … how like mine. The way is ahead, so let's continue step by step. April 8, 2009.