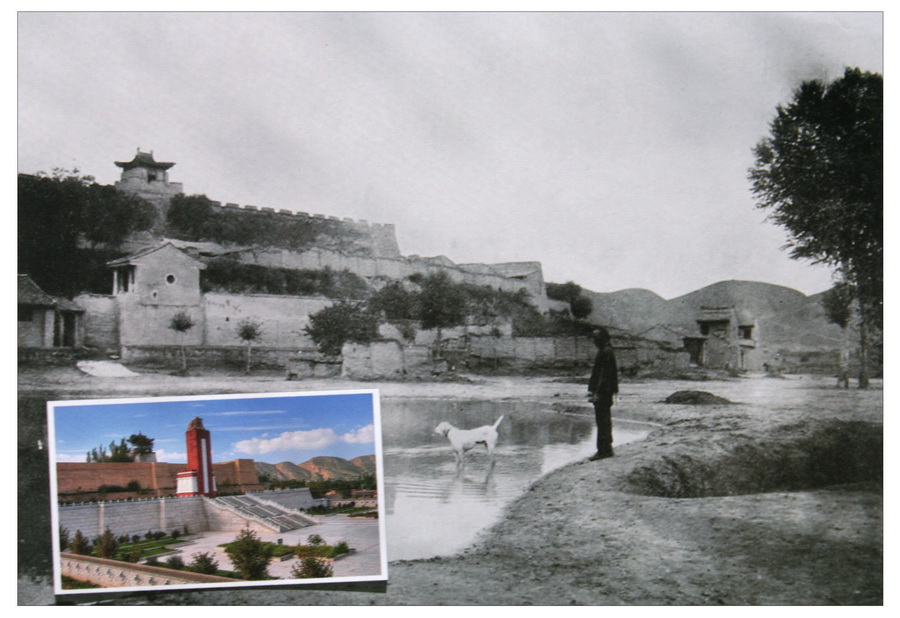 Jiangtaibu, Gansu, taken by Sowerby, July 27, 1909. From Through Shên-Kan.
Jiangtaibu is now part of Guyuan in Ningxia. According to the book Through Shên- Kan, there had been a recent rainstorm which left plenty of standing water. The expedition departed from here the morning after this photograph was taken.
The Jiangtai Walled Village
撰文:李炬  摄影:李炬



On March 20, 1909, on their way to Lanzhou, the Clark expedition traveled from Jiangtaibu via Shanjiaji to Jingning. On July 25, on their return journey, they had a brief pause in Shanjiaji and recorded the meteorological data: sunny, no wind. That evening they stayed in Jiangtaibu.

Through Shên-Kan, p.58–71: "The villages were all prosperous-looking places, where the rich crops of cereals afforded a pleasing contrast after the meager productions of the famine-stricken wilds west of Jing-ning. There was no sign of opium, and this was partly explained by the fact that the inhabitants of the valley were all Mohammedan. Indeed, on this journey it was noticed that, wherever the ordinary Chinese tilled the soil, the best land was devoted usually to the cultivation of the poppy; whereas the Mohammedans used all their land for cereals, hemp, and other useful products."

On October 5, 1935, during the Long March, the Central Red Army led by Mao Zedong arrived at Shanjiaji in Ningxia. Mao visited the mosque to call on the imams, exchanged gifts and after dinner with them, was accommodated in a residence next to Shanyitang Mosque. The next morning he departed in the direction of Liupan Mountain and just three hours after he left, the residence he stayed at, and the mosque, were bombed by aircraft. Two days later, after they had traversed the mountain, Mao wrote a poem, "The Mountain Liupan," including this well-known verse, "One who fails to reach the Great Wall is not a hero." The Great Wall he mentioned is thought to be the section in the area of Liupan Mountain, which was built during the Qin Dynasty.

The Red Army passed through Shanjiaji three times, and due to the friendly relationship they had established with the local Hui people, they were provided with help on each occasion. Commemorating the centenary of Chairman Mao's birth, the Hui people raised funds for a monument on which was written "People's Savior; A Great Leader".




Village with stables, Jiangtaibu, Guyuan, Ningxia. By Sowerby. July 27, 1909. Smithsonian Institution Archives, Image #2008-3084


Jiangtaibu market. March 15, 2009. On October 22, 1936, the Nos. 1, 2, and 4 divisions of the Red Army joined forces here. The stables in the old photo no longer exist and the area is now covered by this square. Market fairs with fixed dates are held here weekly.






Remains of the Qin Dynasty Great Wall at Guyuan.