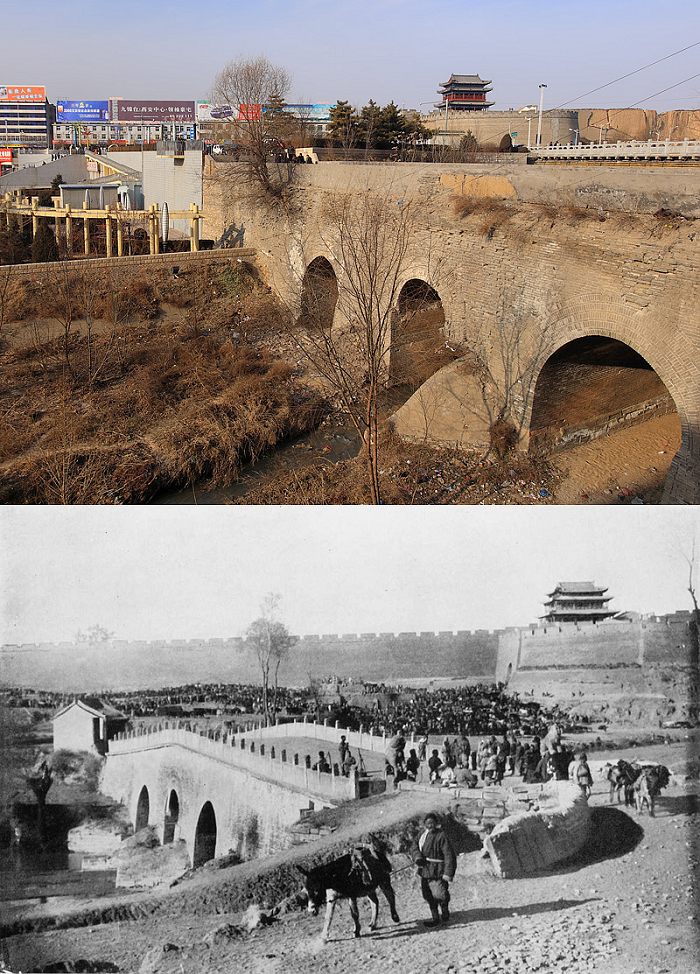 The Yuyang Bridge in January 3, 2009.
Horse fair outside the South Gate, Yulin Fu, Shaanxi. November, 1908. From Through Shên-Kan.

The Lost Yuyang Bridge
Li Ju


Located outside the South Gate of Yulin, the Yuyang Bridge spanned the Yuyang River and served as a major crossing point on the southern road. It was built by Lüwen, a governor of Yansui town, during the Ming dynasty. During this period the southern water course was repaired and an aqueduct added to the east of the bridge, further renovations repeatedly being made throughout the ages. The bridge was a three-arch brick construction, 42 meters long, 8.4 meters wide and 8.3 meters high. There used to be two pairs of stone lions on the southern end which were placed there between AD 368 and 534. A pavilion was built in 1675, inside which stood a stone tablet bestowed by the Emperor Kangxi to commemorate the defenders of the bridge during a skirmish; however there is now no trace of them. In 1983, a cement bridge was completed to the east, and the Yuyang Bridge was left as a historical site.



I revisited the bridge in the spring. April 8, 2009.


I had visited Yuyang Bridge on six occasions, a special event in my travels each time. On September 7, 2009, in a lingering autumn rain that had lasted for two weeks, I again approached the area and stood in the rain, shocked and disbelieving: the Yuyang Bridge had vanished. It had endured 500 years of vicissitudes but now I would not see it again. It was like losing an old friend and I felt extremely sad. It seemed to me that God too, was weeping for its tragic fate.



This ancient bridge is gone forever. Summer 2009.


I learned from some workers that it had been demolished less than a month previously. The purpose was for "Double Creation" — literarily, to create a hygienic and sanitized city, a model for environmental protection. I was distressed about such a decision. Did the cost of the "Double Creation" have to include tearing down this ancient bridge?



In these photos I lament the loss of the Yuyang Bridge, which stood for 500 years, but fell in 2009.