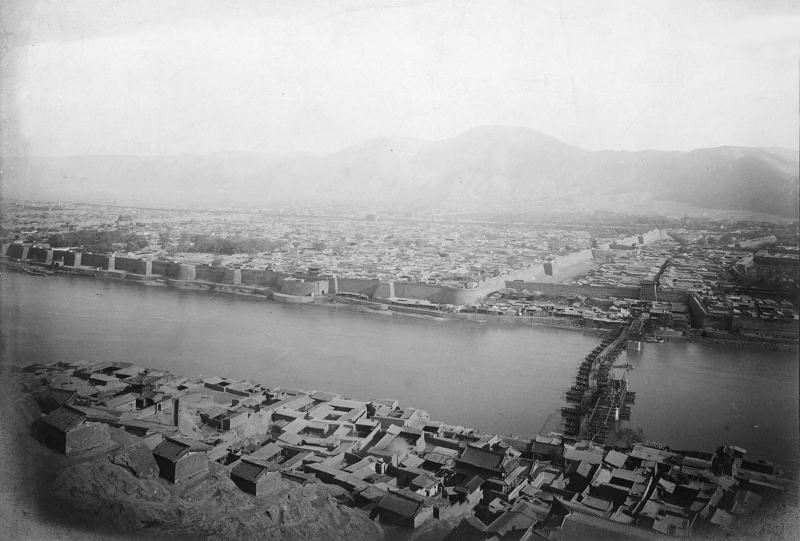 The bridge under construction. Lanzhou, Gansu Province, 1909. Smithsonian Institution Archives, Image #2008-3120
The Old Lanzhou City
Li Ju





Over the years, this "First Bridge over the Yellow River" has experienced the test of several major earthquakes and floods, remaining resolutely in place. When the river is full during summer and autumn, a large amount of loess is washed down from upstream, resulting in its famous name. In September 2009, newly dressed, the city celebrated the 100th anniversary of the completion of the bridge. September 19, 2009.


One hundred years ago, the city wall was still complete. In 1764, the office of the governor-general of Shaanxi and Gansu moved from Xi'an to here. From that point on, Lanzhou gradually became the largest political, economic, and military center in the west of China. At the time of this photo, bridge construction was in progress.

The history of the construction of the bridge was recorded in the Records of the Yellow River:

Located at the foot of Baita Mountain, the iron bridge over the Yellow River in Lanzhou is the first permanent bridge construction in the upper reaches of the Yellow River and enjoys the name "First Bridge of the Yellow River." However, the first bridge built here was in 1372 and called Zhenyuan Bridge. Constructed from wooden pontoons, it was originally located in the west of the city before being moved to the location of the current bridge in 1385. It was a commercial and strategic hub controlling the Hexi Corridor, Qinghai, and Ningxia.
  


  清内务府资料:"兰州城外桥工已竣拟再去石加添木板以期安稳请代奏由"。

In 1909, the Qing government decided to invest in the conversion of the bridge from wood to iron. It is 233.3 meters long and 7.5 meters wide, all construction materials being imported from abroad. The project took one and a half years to complete at a cost of 306,690 Liang silver and was renamed "Zhongshan Bridge" in the Republic of China. The construction was contracted out to German companies and the warranty period covered eighty years, but it only functioned satisfactorily for forty-two of these years, in 1949 barely passing inspection. Since the founding of the People's Republic of China, renovation and reinforcement has been undertaken many times, curved steel arch beams were eventually added, lighting was installed and the old bridge assumed its current appearance.