Virtual World, Actual Wall

LU RUCAI China Today Jan 1 , 2008





T

he Internet is the volunteering frontier of the contemporary E Age.



I

t is a proven and effective means of both supporting conservation of the Great Wall and raising awareness of its crucial nature.



T

HE Great Wall website(http://www.thegreatwall.com.cn) was set up by a body of volunteers dedicated to protecting and conserving this ancient rampart. Of various ages and in diverse occupations, all are dedicated to preserving the world¡¯s largest cultural relic.



V

olunteer Cheng Changjin posted a notice in October 2007 concerning a Great Wall gate tower in Weixian County, Hebei Province that was about to be bulldozed to make way for a local construction project. It sparked off an immediate response. Dozens of fellow volunteers reported the matter, via social networking, to the Zhangjiakou City cultural heritage protection authority, under whose jurisdiction Wei xian County falls. Demolition was thus prevented. Cheng and other volunteers maintained their vigilance until a trip to the site satisfied them that danger was past.



Autodidact Great Wall Savants





C

heng, chemistry major and a manager at the China National Chemical Information Center, is one of the thousand-plus volunteers registered with Greatwall.com. Until relatively recently, Cheng knew little about China¡¯s most majestic structure other than what he had learned at primary school ¨C that it is synonymous with China and the pride of the Chinese nation.



C

heng found his Great Wall conservation ¡°vocation¡± in 2002, as head of the Wildman Mountaineering Team, a group of climbers from his local community in northern Beijing. During a regular excursion, Cheng and his fellows climbed the lesser-known mountains of rural Huairou District where stands the Jiankou section of the Great Wall. Upon reaching the summit, he was transfixed at the sight of this age-old fortification meandering through densely wooded ridges in the dazzling morning sunlight.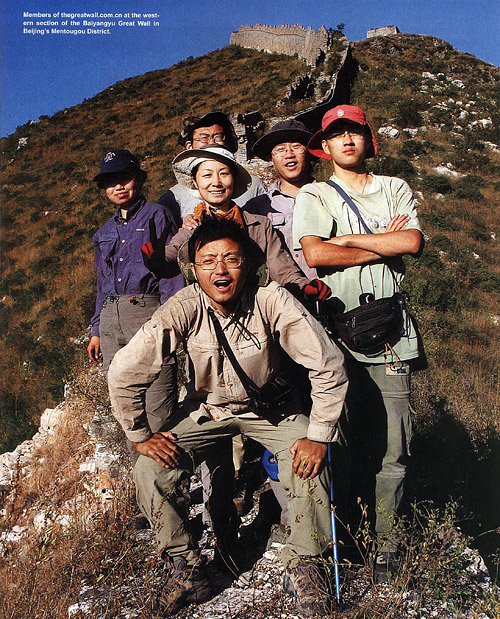 Members of thegreatwall.com.cn at the western section of the Baiyangyu Great Wall in Beijing¡¯s Mentougou District.

T

he experience motivated Cheng to log on to and join greatwall.com. The website was founded in 1999 by Zhang Jun, IT technician and member of both the China Great Wall Society and the China Cultural Relics Society. Its members work in business, the military and media, but all are self-taught experts on the Great Wall. The website facilitates exchanges and research opportunities by organizing spontaneous brainstorming sessions and group field study excursions. ¡°During recent years of field work I have made 500,000- character notes on life in communities along the Great Wall that I have visited and taken 70,000 to 80,000 photos,¡± Cheng confirms. Many fellow volunteers have been similarly inspired to learn as much as possible about the Great Wall. The website has acted as an invaluable medium for comparing and exchanging notes.



Cyber Efforts Yield Actual Results





¡°T

he website¡¯s role in conserving the Great Wall cannot be understated,¡± is the unequivocal opinion of Zhou Youma, deputy secretary general of the China Great Wall Society.



T

he presence of website members is apparent at many national and international events. At the Pingyao International Photography Festival of 2005, for instance, they staged the photographic exhibition, ¡°The War of Resistance against Japanese Aggression and the Great Wall ¨C Photos of War Sites.¡± It juxtaposed wartime shots against more recent ones by website members at similar locations. The idea came about during a member-sponsored campaign in 2002 to amass photos of the Great Wall taken by wartime correspondents and confirm their locations. The process of verifying each site involved complex liaison, copious paperwork and hefty legwork. The photos were taken only when everything had been confirmed. ¡°Few of us are experienced photographers, but the magnificence of the Great Wall makes it impossible to take a bad shot of it,¡± Cheng says. ¡°Anyway, the point of our pictures is to note changes in it over the course of history, rather than celebrate its beauty.¡±



T

he attention of website members is currently focused on sections of the Great Wall in Beijing and neighboring Shanxi and Hebei provinces, the latter of which features a largely intact defense system.



W

ebsite members¡¯ close monitoring of the Great Wall has prevented several instances of further damage to it. One field trip came upon a shoddy reconstruction of the Jiangjunguan Great Wall. Upon reporting their findings to the Beijing Municipal Administration of Cultural Heritage the matter was immediately remedied. Following their reports on crumbling watchtowers along the Baimaguan section, the administration allocated funds to a restoration project the following year. Volunteers also prevented a construction project on the ruins of an earthen segment of the Great Wall at the border of Shanxi Province and Inner Mongolia Autonomous Region.



A

ware that they are not law enforcers, these volunteers do their utmost to promote Great Wall conservation awareness. They have left copies of their independently published leaflet, My Home by the Great Wall at each spot visited along the Wall.



T

he Regulations on the Protection of the Great Wall, forbidding the climbing of unrestored sections, came into effect on December 1, 2006. Website volunteers have since drastically reduced their field study activities. ¡°Climbing for so-called academic purposes is no excuse to flout the Regulations,¡± Cheng states. ¡°It is our deep-seated love for the Great Wall that motivates us to guard it from all potential damage.¡±



A Formidable Mission





¡°T

he dilapidated state of certain sections of the Wall is truly heart wrenching. In some areas whole sections have been dismantled,¡± Cheng says, grimly. ¡°This is why we accumulate as many records of it, written and photographic, as possible. That way we can at least pass on current images of the Great Wall to coming generations.¡±



Y

et the more volunteers do to protect the Great Wall, the more they find still to be done. The primary task is to dispel ignorance as to exactly where the Great Wall stands beyond the popular tourist spots at Badaling, Mutianyu and Shanhaiguan. ¡°We are often asked by puzzled farmers we meet on inspection tours to Shanxi: ¡®Isn¡¯t the Great Wall in Beijing?¡¯¡± Cheng says. Villagers in remote areas are unaware that the earthen ridges and mounds where they sit and let their sheep graze are actually remains of 2,000-year-old earthen sections of the Great Wall. Even if they did, the significance of it would be lost on them.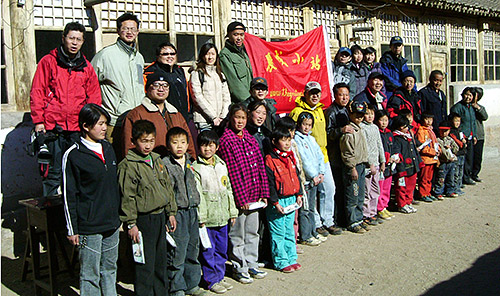 A Great Wall protection educational event in Wulonggou Township, Laiyuan County, Hebei Province.

A

ppropriate measures the website raises to protect the Great Wall include preventing local governments from entirely destroying, rather than refurbishing, ruined sections of the Wall in order to build replicas of better known parts in their place, in the hope of attracting tourism. The website stresses that leaving the wall alone is often the best way of protecting it.



B

ut there have been encouraging advances in recent years. Cheng reports, ¡°Villagers now realize that dismantling the Great Wall is illegal. This is progress.¡± Certain farmers have gone a step further. Zhang Heshan of Chengzi Village in Funing County, Hebei Province, was born and raised at the foot the Great Wall. His Ming Dynasty ancestors guarded the garrison there. Zhang has decided to carry on the family tradition by voluntarily patrolling his section of the Wall.



International Collaboration





T

he Great Wall is the legacy of the Chinese people to all humankind. This explains the involvement of transnational organizations with the website.



B

lue-eyed Alun from the US is the mastermind of the website database. A freelance journalist, Alun carries out research on the Great Wall in Beijing, where he has covered every inch of it. He passes on his findings to like-minded Great Wall conservationists after returning to the US. Fellow website members see him as a Ming Dynasty Wall expert. He is consequently a much sought after source of information.



T

he greatwall.com.cn website runs on donations and club subscriptions. The most successful nongovernmental organization of its kind, its English edition brings members into contact with several other nations. In addition to maintaining contact with other Great Wall organizations, such as the China Great Wall Society, Great Wall Research Committee of the Cultural Relics Society and International Friends of the Great Wall, the website is also actively involved in international events. In 2005, for example, it sponsored a Great Wall exhibition at the Australian Powerhouse Museum in Sydney.



W

ebsite founder Zhang Jun stresses: ¡°Nothing could be more frustrating than watching this magnificent distillation of our ancestors¡¯ skills slide into ruin. But preservation of the Great Wall is not a mission that can be accomplished by individuals; it requires the efforts of all society. Everyone must act.¡±



W

ebsite members are on the front line in this regard. Police officer Hong Feng uses his investigative skills to unravel unsolved myths of Great Wall history. Ma Zixin, commander of an army division, inspected every Great Wall site while stationed at Zhangjiakou. Despite old leg wounds he still makes regular tours. Lian Da and his recently wedded wife met through website activities. They held their wedding on the Great Wall ¨C perhaps the ultimate endorsement of the website motto, ¡°Love Life, Love the Great Wall.¡±





COPYRIGHT 2008 All rights reserved. Reproduced by permission of China Today.



( Edited by YuWei Feb.12.2008 )