Magic planned in Beijing's Changping
2015-08-07 00:00:00 / chinadaily


The World College Students' Magician Exchange will take place in Changping district of Beijing from September 24 to 26, announced district vice-director Liu Shuhua on April 6 at Juyongguan, a Great Wall scenic spot in Beijing.
The exchange will include a magic show by international masters, a world college student magic competition, a close-up magic salon, trainings, and exhibitions. Twenty college students from across the world will compete for the championship.
This will be the fourth time Beijing's Changping district holds a large international magic-themed event, following two international magic carnivals in 2012 and 2014, and an Asian college student magic exchange in 2013.
Now, the district aims to develop magic into one of its cultural industries by working out plans and policies. It is also constructing a magic base and a national circus theater.
Changping will build itself as the "Capital of Magic" and develop magic into an industry, said Liu Shuhua. This will promote the exchange of magicians around the world and cultivate more young magicians in China.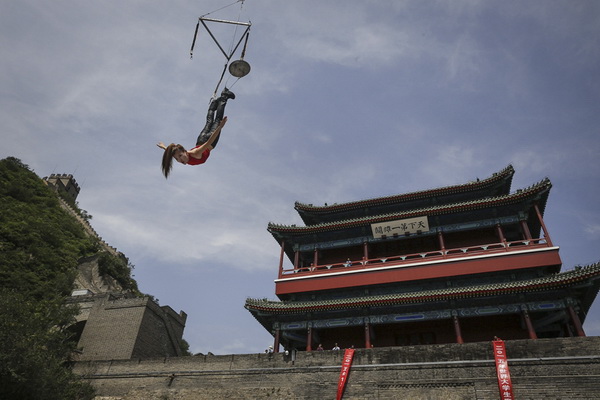 Suspended above the ground, magician Ning Ning performs an escape act at Juyongguan, a Great Wall scenic spot in Beijing, on Wednesday. The show is a warmup for the World College Students' Magician Exchange in the capital from Sept 24 to 26. [Photo by Liu Hang/Asianewsphoto]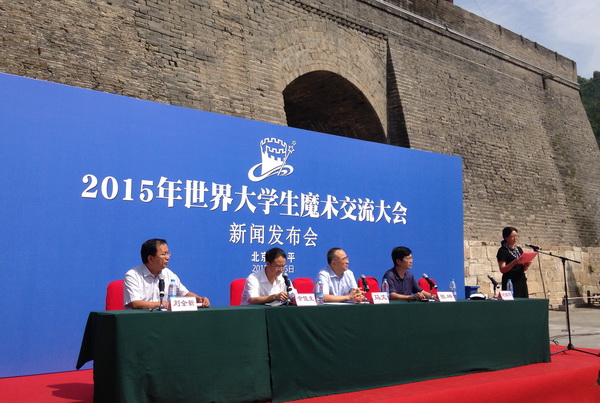 The World College Students' Magician Exchange holds a press conference on Aug 6, at Juyongguan, a Great Wall scenic spot in Beijing. [Photo by Zhao Qian/China Daily]
(Written by Wang Sujuan and Zhao Qian)