Great Wall needs better protection
2015-06-28 20:42:00 / chinadaily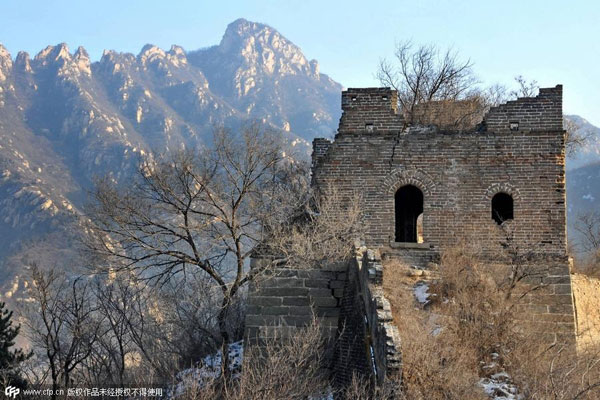 A section of the Mutianyu Great Wall in Beijing in dire need of repair, 2013. [Photo/CFP]
SHIJIAZHUANG -- The Great Wall of China is under assault from both man and nature, and preservation is proving to be no easy task.
Part of the wall running through the wilderness of Funing County in Hebei Province has been left to rack and ruin, with many sections crumbling and large gaping holes.
This is not an uncommon scene. Exposure to the elements has left many parts of the structure too fragile to even withstand bad weather. In 2013, several towers in Funing collapsed during a torrential downpour. One 36-meter section in Hebei was destroyed by a storm in 2012.
Overgrown plants are also accelerating the decay and trees have taken root in between the bricks.
Zhang Heshan, a farmer in Funing, has been a volunteer Great Wall curator for decades. Before removing the trees he carefully takes down the bricks.
It is not just natural forces, but tourism and other human activity that are contributing to the Wall's demise.
In Lulong County, many of the homes are built with thick grey bricks, exactly like the ones used for the wall.
One female villager, who refused to be named, told Xinhua that the poor would steal bricks from the Wall to use as build material, however, she underscored, there is much more interest in protecting the Wall, now.
Despite this, some special bricks -- those that feature ancient Chinese characters -- are still being stolen. The bricks usually change hands for around 40 yuan (6.40 U. S. dollars) on the black market.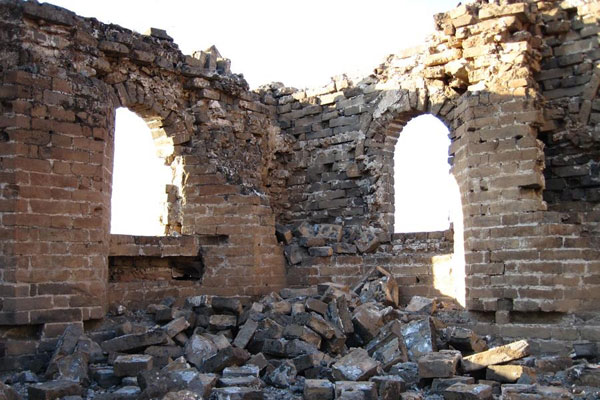 Part of the Great Wall in Chengde, Hebei province, having been damaged by wind, 2013. [Photo/CFP]
Additionally, more people are interested in visiting the "wild" Great Wall, the sections not developed for tourism. Funing cultural relics protection office said that the wild Wall is vulnerable to vandalism.
The Great Wall was built from the third century BC to the Ming Dynasty (1368-1644). The existing sections are mainly the Ming wall, which stretches over 8,800 kilometers. Less than 10 percent of the wall is considered well-preserved, while about 30 percent has disappeared.
Hampered action
In 2006, a regulation on Great Wall protection was released, however, the sheer size of the structure made it difficult to enforce.
Dong Yaohui, vice head of China Great Wall Society, said: "As much of the Great Wall is in the wild it is impossible to ensure intensive protection.
"Local authorities lack the money and labor to preserve the whole structure."
In Funing County, a stretch of around 140 kilometers is managed by nine people. In Zhangjiakou, the wall passes through many impoverished counties whose governments have more pressing priorities. Many sections of the wall, particularly in border areas between provinces, are neglected.
Some well-meaning, but poorly informed officials have taken it upon themselves to restore parts of the wall without staying true to the original character of the structure. A county government in Shandong Province even repaired a 2,000 meter section, which dated back to between 770 BC and 476 BC, in a "modern Ming style", Dong said.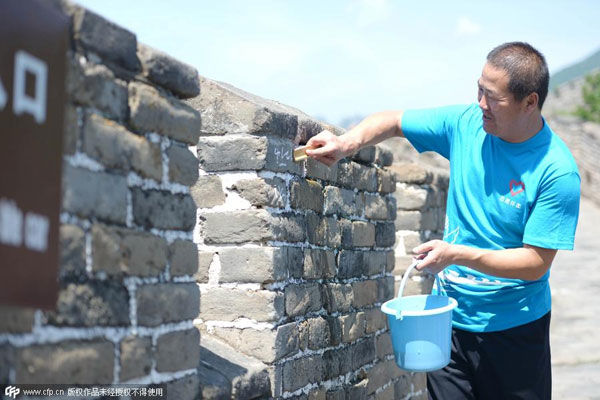 Graffiti is cleared by a volunteer from a section of the Great Wall in Beijing, June 14, 2014. [Photo/CFP]
Holistic approach
"We should not solely rely on local cultural relic departments to protect our national heritage," Dong said. "Besides more investment, central and local governments should bring in private capital and encourage local people to get involved."
Moreover, as the Great Wall is a large structure running through 11 provinces, regions and municipalities, a holistic conservation approach should be taken, and a systematic protection plan must be drawn up, which defines and coordinates the obligations of different provinces and governmental departments, Dong said.
Liu Zhimin, official of cultural heritage bureau of Hebei, suggested that each section of the wall should be evaluated before any repair or construction work.
Additionally, Dong noted: "Only about 1 percent of the Great Wall has been developed into tourist sites, these sections are in much better shape than the 'wild' parts," he said.
"After development, authorities can better supervise the behavior of tourists and adopt more efficient preservation measures," he said.
(Written by Xinhua)